In 1965, De Havilland Canada developed the DHC-6 Twin Otter aircraft – a high winged, un-pressurized twin engine turbine-powered aircraft. These versatile and robust utility turboprops have been sold worldwide to customers operating in challenging and unpredictable environments. When time is crucial, we ensure operators can keep their aircraft off ground and execute their mission or flight without interruptions. 
Continuing to develop features and combining a proven design with modern technology to satisfy the needs of operators, Viking's aftermarket now offers two electrical system enhancements (Mod 6/2314 and Mod 6/2315) for Twin Otter Series 400 aircraft.*
Mod 6/2314 introduces independent BATTERY and EXTERNAL power switches on the overhead switch panel. Installing this modification provides following benefits:  
Ability to charge the main battery using external (ground) power source by easily plugging-in ground power and selecting the EXTERNAL power and BATTERY power switches at the same time.
Switching from external power to battery power can be accomplished continuously, without a brief power loss, avoiding avionics reset.
Engine starts can be accomplished with both battery power and external power sharing the load.
Mod 6/2315 introduces a new start battery for the avionics to provide supplementary power to certain systems during engine starts. Installing this modification provides the following benefits:  
Mod 6/2315 reduces occurrences of the display screens from displaying the Red Cross during starts, thereby monitoring all engine parameters without interruptions while starting the PT6-34 engines.
Mod kit 6/2315 comes with a new overhead switch panel. The panel includes a new AVIONICS START BATTERY control switch, along with the independent BATTERY and EXTERNAL power switches introduced under mod 6/2314.
Purchasing mod 6/2315, operators will automatically receive mod 6/2314.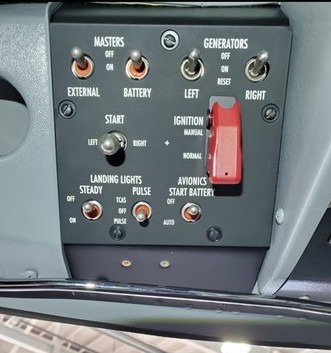 Our experienced customer service representatives are ready to assist for your APEX Start-up Battery inquires.